LEGENDARY SONGWRITER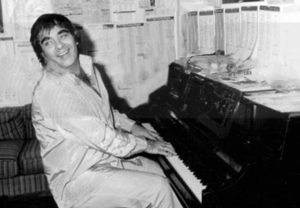 Originally from Chicago, legendary Motown songwriter, Ron Miller (1932-2007) wrote numerous hit songs including, "For Once in My Life," "Touch Me in the Morning," "Heaven Help Us All," "Yester-Me, Yester-You, Yesterday," "I've Never Been a Woman Before," "A Place in the Sun," "Someday at Christmas," "One Little Christmas Tree," "Everyone's a Kid at Christmas Time," "I've Never Been to Me," "If I Could," and many more.
Ron's songs have sold in the hundreds of millions with recordings by some of the biggest recording artists of all time, including Frank Sinatra, Stevie Wonder, Barbra Streisand, Tony Bennett, Dean Martin, Sammy Davis, Jr., Judy Garland, Ella Fitzgerald, Ray Charles, Michael Bublé and Celine Dion. His songs have been reimagined for every generation with several recordings by even the youngest artists of today including Justin Bieber, LeAnn Rimes, Noah Cyrus, Lizzo and Oliver Richman.
Ron's songs have been featured in numerous top-grossing films and on countless television shows throughout the decades as well as in major global ad campaigns by the largest companies and brands.
Ron has numerous RIAA gold and multi-platinum records and multiple BMI awards. His songs have won several Grammy Awards including in 2005 for "Heaven Help Us All," the last song recorded by the legendary Ray Charles.
Miller's classic standard, "For Once in My Life," is Motown Record's most recorded song and is one of the most recorded songs in history, period – having been recorded by over 700 major label artists. In 2007, "For Once in My Life" won multiple Grammy Awards for the Tony Bennett/Stevie Wonder collaboration. In 2009, "For Once in My Life" by Stevie Wonder was inducted into the Grammy Hall of Fame. The song's 50th Anniversary release was recorded by Ron's grandson, Oliver Richman – produced by Lisa Dawn Miller.
Ron received Motown's Heroes and Legends Award (posthumously) in 2007, a lifetime achievement award in songwriting.
Miller wrote the book and lyrics to many musicals including "Daddy Goodness," "Clothespins & Dreams," "Satchmo," and "Cherry," (based on William's Inge's "Bus Stop") and produced several hit recordings including "I've Never Been to Me" by Charlene.
Ron's daughter, Lisa Dawn Miller, is developing a new musical about her father. She is the Managing Partner of the Ron Miller Legacy Songtrust and is in charge of the Ron Miller Legacy song catalogue.
MORE
---
PLAYLISTS
---
DID YOU KNOW
Ron's songs have sold in the hundreds of millions
Ron's songs have been featured in numerous top-grossing films and on countless television shows
Ron's songs have won several Grammy Awards
Ron's classic "For Once in My Life" is one of the most recorded songs in history having been recorded by over 700 major label artists
---
MUSICAL INFLUENCES:
Ron Miller
Stevie Nicks
Barbra Streisand
Ella Fitzgerald
Ray Charles
---
YEARS ACTIVE:
1970 - Present
---
INSTRUMENTS PLAYED:
SOCIAL